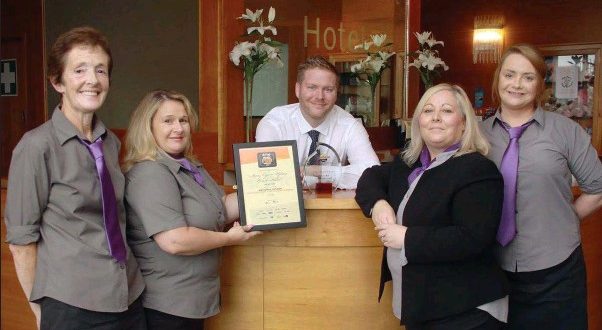 2018 Irish Pub Award for "Outstanding Customer Service"
The Upton Court Hotel in Kilmuckridge received the award for 'Outstanding Customer Service' at the Irish Pub Awards in 2018.
The hotel was crowned as the overall regional winner and went up against other contestants at the National Final on Wednesday, November 21, at the RDS, in Dublin. Speaking to the Guardian Newspaper, General Manager Graham Bell said the news had come as a bit of a shock and they are over the moon to have won the regional award.
'The judges called into us unannounced so we weren't really ready for them,' said Mr Bell. 'To have achieved this award is unbelievable for us.'
The success of the small country hotel is down to the staff who consistently work hard.
'I have been here for 13 years and I have seen a lot of the same faces come back to us because our staff look after them so well,' said Mr Bell. 'We are a close knit team here.'
Mr Bell said on behalf of the Upton Court Hotel he would like to dedicate the award to the staff as they deserve a huge amount of credit for it.
Gorey Guardian October 23rd, 2018